Oki Kisen Ferry Line Timetable and Fares Information
Welcome to the Oki Kisen Ferry Line homepage!
On this page, you can find useful information about accessing the Oki Islands by sea. Please read it before starting your journey.
Basic Information
All four Oki Islands can be accessed by sea. The ferries going to the Oki Islands depart from Shichirui Port (Shimane Prefecture) and Sakaiminato Port (Tottori Prefecture). You can access both ports by public buses departing from Matsue Station or Yonago Station. Sakaiminato Port can be also accessed via JR train.
Ferry Information

 
There are three types of ferries running between mainland Japan and the Oki Islands, and between the Oki Islands themselves.
 1) Ferry Oki, Ferry Kuniga, and Ferry Shirashima
Capacity: around 800 people each; transport of cars, motorcycles, and bicycles possible
Bookings: prior booking is necessary for cars and other vehicles. Booking cannot be made for a standard (2nd class) ticket. Bookings can be made for groups and for travellers who wish to sit in Special 2nd Class or higher (TEL: 08512-2-1122, Japanese language only).
Time: 2-2.5 hours for direct connection between the port on mainland Japan and Oki. Indirect connections take longer, so please check carefully when planning your trip and choose the shortest route.
2) Fast Ferry Rainbow Jet (hydrofoil)
Capacity:around 250 passengers. It is NOT possible to transport cars and other vehicles on the Fast Ferry. Luggage is limited to suitcases or bags less than 1 m in size and 10 kg in weight (2 pieces per person).
Bookings: Strongly recommended, as seats are limited and tend to sell out quickly. Please use this Google Form to make a booking inquiry (min. 3 days in advance). Please check this site to view seat availability. In case you wish to make a cancellation, please use this Google Form. 
Time: 60-70 minutes for direct connections between the Oki Islands and mainland Japan.
Notice: Fast Ferry Rainbow Jet does not stop at Chiburijima Island, and depending on the route it does not stop at Nakanoshima Island too. However, there are inter-island ferries operating to take passengers from Nishinoshima Island to Chiburijima or Nakanoshima. Those ferries depart right after the arrival of the Rainbow Jet. Please proceed to the inter-island ferry boarding port immediately after your arrival for connecting ferries and continue your journey to Chiburijima or Nakanoshima.
 
3) Inter-Island Ferries: Ferry Isokaze and Ferry Dozen
 Inter-Island Ferries run multiple times a day between Nakanoshima Island, Nishinoshima Island, and Chiburijima Island.
Capacity: smaller ferry called 'Isokaze' carries passengers only; the larger Ferry Dōzen carries passengers and cars.
Tickets are sold on the ferry (a crew member will come to collect the money) and in the ticket office. Car tickets must be bought at the ticket office.
However, the ticket office is not open for the first and the last rides of the day. Pay those car tickets after boarding the ferry.
To load the car, park your car on the designated waiting area for the cars to go on the ferry. Follow the staff's guide to load the car to the ferry.
Bookings: not available. Car tickets for Ferry Dōzen can be bought after the previous ferry departs.
Timetables
Please check the detailed departure and arrival times of buses, ferries, and the fast ferry in the files below. All fares are one way fares.

「2023 FERRY Timetable and Fares(Oki Kisen Ferry Line)」(PDF:589kB)

「2023 FAST FERRY RAINBOW JET Timetable and Fares(Oki Kisen Ferry Line)」をダウンロードする(PDF:619kB)

「2023 INTER-ISLAND FERRY Timetable and Fare Information」(PDF:403kB)
Boarding Procedures
*We recommend that you arrive 30 minutes before departure time (60 minutes if you wish to put your car on the ferry).
1. Documentation (at the terminal)
- fill out a passenger boarding form (in English or Japanese)
- fill out a vehicle form if you wish to put your car on the ferry. You will need to show the shaken-sho (vehicle paperwork) at the ticket office.

「PASSENGER LIST」(PDF:68kB)
2. Ticket Office
- hand over your boarding form (and vehicle form) to the ticket office staff. You can pay with cash or credit card (except for Chiburijima Island, where only cash payment is possible).
- If you purchased your ticket through a travel agency, complete the passenger boarding form and hand it in to the ticket office together with your travel voucher.
- Only the main driver can put the car on the ferry. Other passengers must board the ferry from the passenger's entrance.
3. Boarding
- Please make sure you know which port you will get off at, and check what time the ferry will arrive.
- Please keep your ticket with you. You will need to hand in your ticket to the staff before getting off the ferry.
Free Return Ticket! Oki-Toku Special Ticket Campaign
Stay at local accommodation and experience one or more activities to get your return ferry ticket free of charge.
See the attached flier for details, or visit the official English website of the campaign!
For access and sample itinerary information please see this article on the official tourism website.
Oki Kisen Vehicle Fares
We recommend that you arrive 60 minutes before departure time if you wish to put your car on the ferry. Fill in the Oki Kisen vehicle boarding form at the ferry terminal.Hand over yourboarding form along with the shaken-sho(vehicle paperwork) at the ticket counter. Only the main driver can put the car on the ferry. Other passengers must board the ferry from the passengers' entrance.All passengers leave the ferry in the car. Please follow the instructions given by the staff.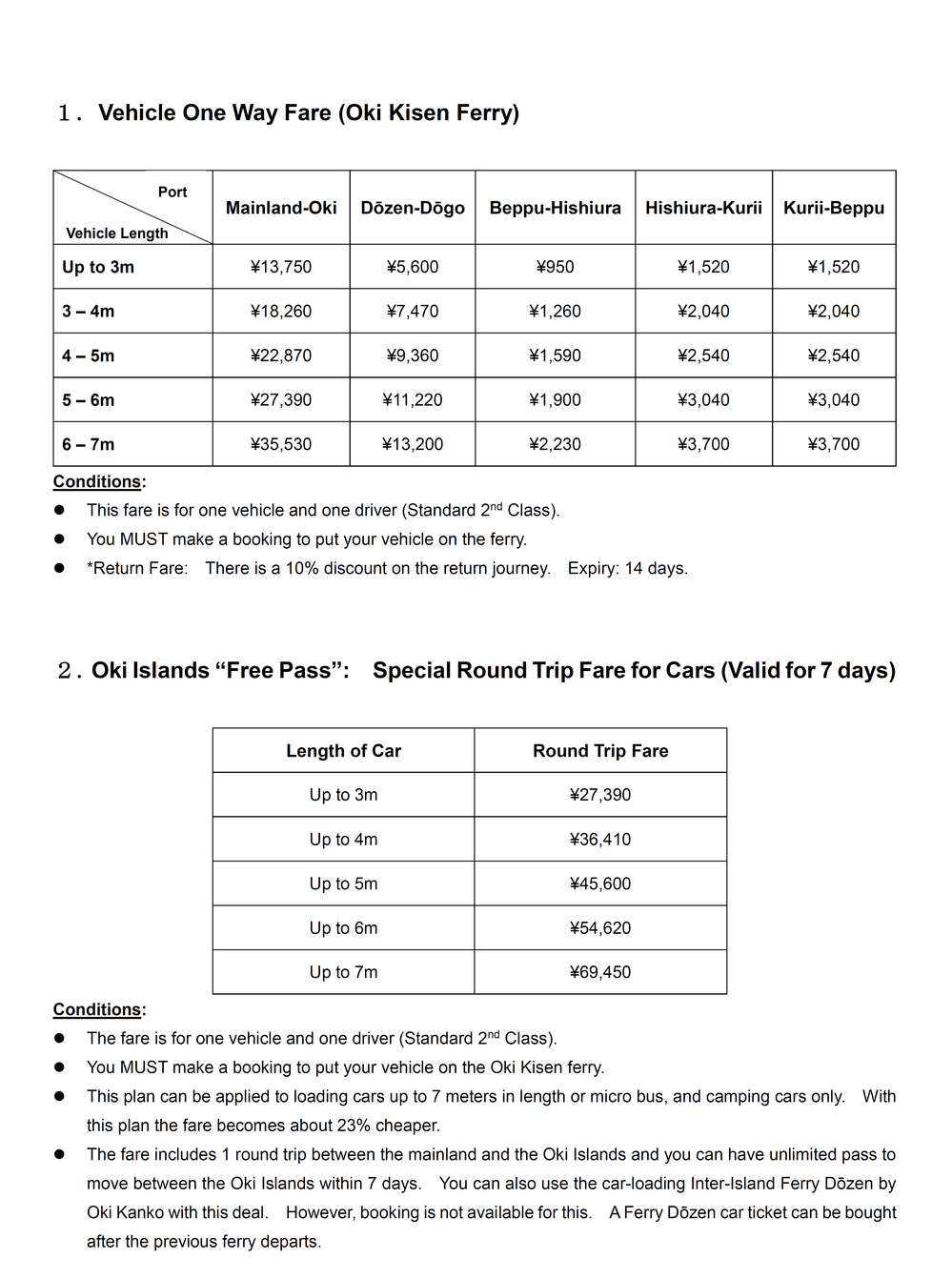 「Oki Kisen Vehicle Boarding Form」(PDF:86kB)
 *You can find this document in the ferry terminal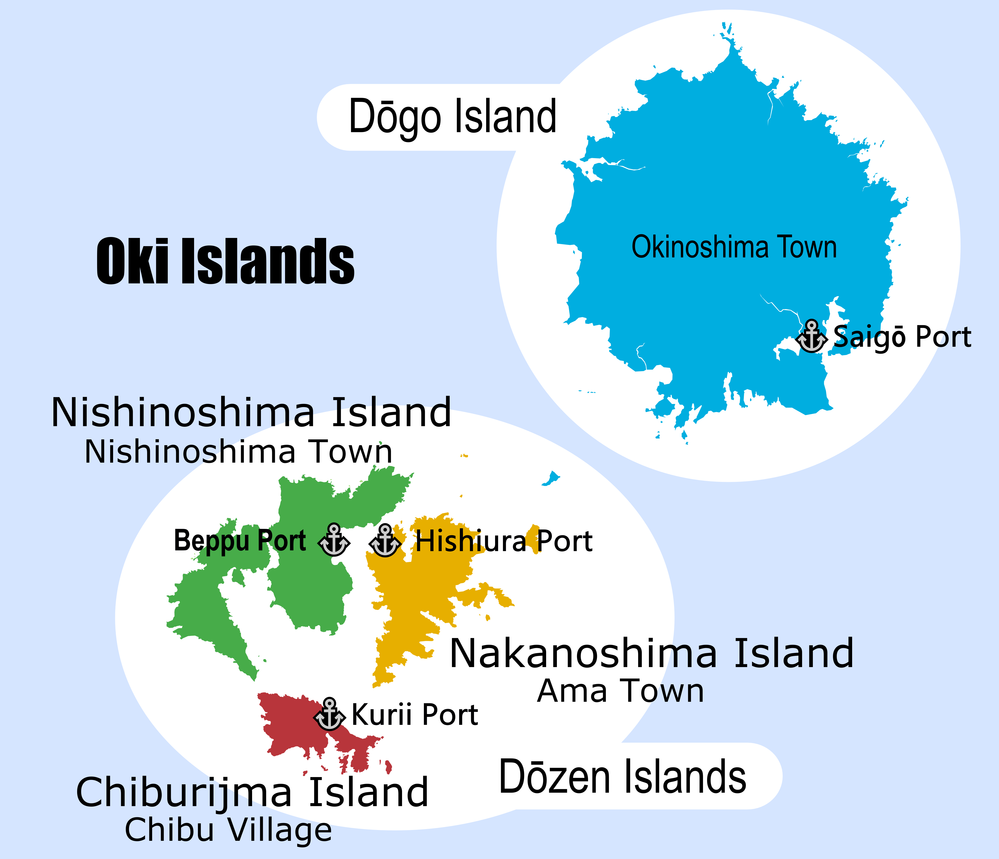 Click the banner below to check out videos explaining how to board the Oki Kisen ferries. English subtitles are available.

For tourism information in English please visit the official website of Oki Islands Tourism Association.